MINGDA Magician Max Une incroyable imprimante 3D FDM modulaire libère votre potentiel d'impression 3D ! MINGDA Magician Max An amazing modular FDM 3D Printer unleashes your 3D printing potential!
Product Description
Magician Max FDM 3D Printer: Innovator of Auto-Leveling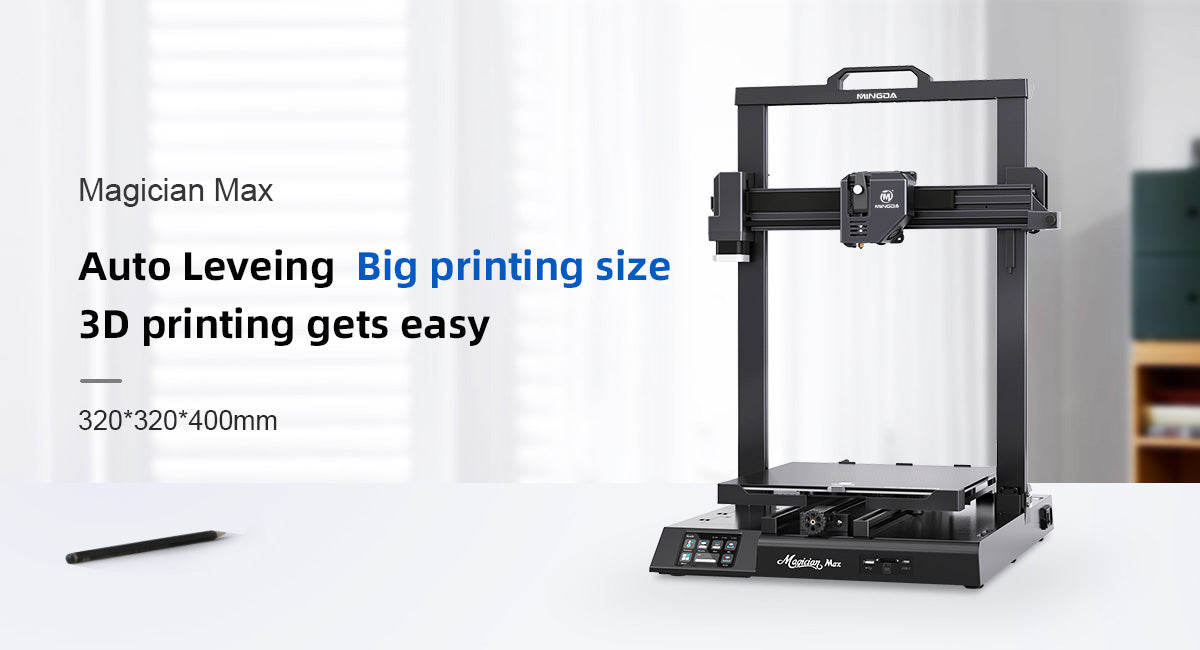 MINGDA Magician Max–An amazing modular FDM 3D Printer unleashes your 3D printing potential! Equipped with a new 32-bit motherboard and a high-performance Cortex-M4 architecture main control chip, MINGDA features faster computing speed and a smoother system. The integration silent driver makes the motherboard have both silent printing and precise voltage output control, which ensures more accurate and silent printing.
Magician Max FDM 3D Printer: Innovator of Auto-Leveling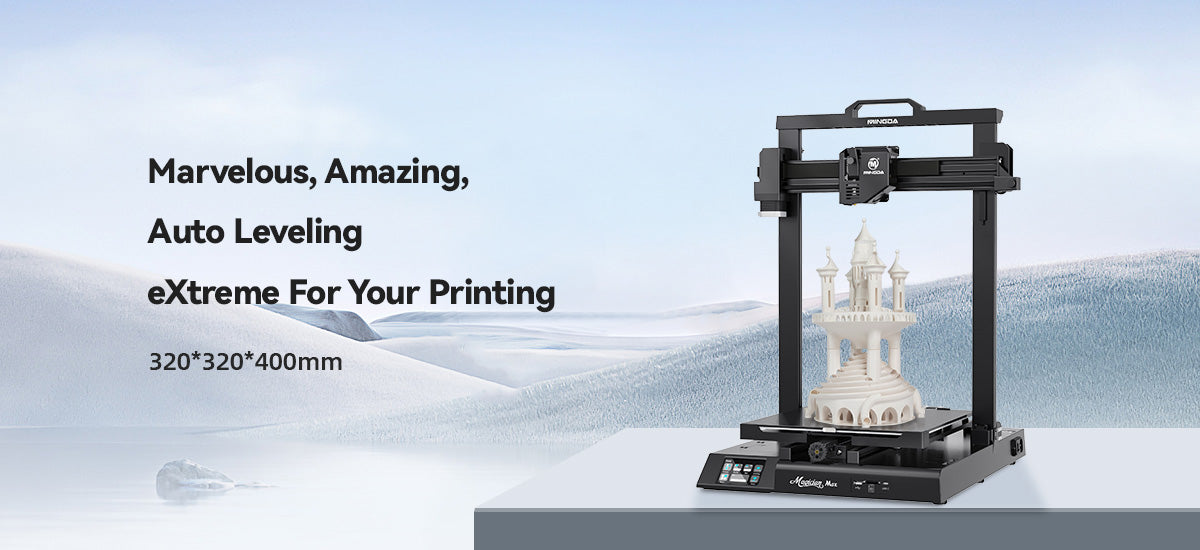 | | | | | |
| --- | --- | --- | --- | --- |
| https://www.youtube.com/embed/dW_Cgtzq21w | | Auto-LevelingOne touch smart Auto Leveing Dual Gears Direct Extrudergreater (conveying) force and preciser (filament) control | | Fast AssemblyModular structure Huge Printing Size320*320*400mm |
Technical Specifications
● Print size: 32×32×40cm (15.7″×12.6″×12.6″)
● Calibration: Self-developed Automatic Leveling
● Filament diameter: 1.75 mm
● Printing material: PLA / ABS / PETG & TPU
● Nozzle size: 0.4mm default, wide range of other nozzles supported
● Extuder: Direct Drive,Double Gears
● Filament run-out detection: Support
● Resume Printing: Support
● Tool Box: Yes
● Max nozzle temperature: 260 °C/500 °F
● Max heatbed temperature: 110 °C/230 °F
● Average speed: 6-8 cm/s,2.3-3.1 in./s
● Control panel: 3.5 inch colorful LCD touch screen
● Print interface: SD Card,U Disk,USB-C
● Z-axis: Double threaded rod with synchronous belt
● Machine Weight: 10kg
● Machine Dimension: 55.5 x 43 x 66cm / 21.9*16.9*25.9in(X×Y×Z)


Large Build Size
The printing size is up to 320 x 320 x 400 mm,the large objects can be printed in one piece.


One-Click Leveling
Leveling is the Key to printing successfully,just need1 click, the Mingda self-developed Auto-Leveling function will automatically fast and accurately compensate for the unevenness of the heated bed via 16-points, help you always get the perfect first layer to ensure the good printing


Dual Gears Direct Extruder
It features an advanced dual-gear direct extruder. Compared to the only one active gear. Dual gears ensure more precise filament control and can prevent the filament from slipping quickly. Compatible with flexible materials, the printer can reduce jitter in filament transmission and ensure printing smoothly


Fast Printing
The maximum printing speed is 200mm/s (Average speed is 90mm/s, 200% faster than competitive products). Faster speed enables you to enjoy more joy of 3d printing.


Double & Synchronized Z-axis
The large print volume of the Magician Max is stabilized by a double-driven Z-axis. each driven by an independent motor, are additionally connected with a toothed belt at the upper end of the frame. This synchronizes them and stabilizes their movements even more.


Almost Plug & Play
High Modular design allows the printer to be assembled only in 5 minutes, help start quick and much time saving


Automatic Filament Detection & Resume Printing
It will pause the printing process if you run out of your filament, or if the filament is broken. Easily continue printing from power failure or pause, saves time and filament.


Ultra Silent Printing
Exclusive silent mechanical structure design, operates very quietly with an average volume around 40-50 decibels


Belt Tensioner & Built in drawer
Magician Max have some friendly design including support multiply connection via full size SD-Card, U disk,USB-C,Belt tensioner on X,Y axis to help you tweak the tightness. And a built-in drawer to stock the tools.
Parts List
| | | | | | |
| --- | --- | --- | --- | --- | --- |
| Filament | User manual | Filament holder | Tool box cover | M5*25 (2pcs) | M4*20 (4pcs) |
| SD card | Teflon tube | Nozzle | Power cable | Wrench | Allen wrench |
MINGDA Care