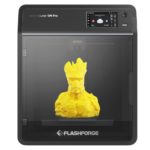 Flashforge Adventurer 5M Pro
Flashforge Adventurer 5M Pro 3D Printer, Auto Leveling, 600mm/s Max Printing Speed, Remote Camera Monitoring, Filament Runout Reminder, Dual Air Filtration System, Automatic Shutdown, 50dB Silent Printing, WiFi Connection, 220x220x220mm
Highlights
Enclosed Design, Large Printing Volume
Flashforge Adventurer 5M Pro is an enclosed 3D printer equipped with a dual filtration system, suitable for use in closed environments such as study rooms and classrooms. It features a 220x220x220mm large printing volume, enabling you to make more exquisite models with large sizes.
Fast Printing Speed
It configures a standard print speed of 300mm/s and a maximum extruder speed of 600mm/s. Nozzle with a flow of 32mm3/s, 50w heating power, and 200 Celsius heating up in 35 seconds greatly shortens the waiting time.
Full-Auto One-Click Leveling
Adventurer 5M series features a full-auto one-click leveling system. It measures the distance and then calculates the correct offsets. No tools, no manual Z-axis calibration, while ensuring perfect first layer.
Easy to Use
The Adventurer 5M series is well-suited for beginners, individual users, families, and educational institutions. Just one-click printing, without complicated operation procedures.
Eco-friendly Printing
Adventurer 5M Pro adopts a dual filtration system of internal and external circulation. HEPA13 and activated carbon can effectively block 99% of particles and VOCs, thus protecting your respiratory system.
Easy-Maintenance Nozzle for Both Rookies and Experts
Various nozzle diameter (0.25/0.4/0.6/0.8mm) options are suitable for both high-precision and high-efficiency modes.
ADVENTURER 5M PRO
Next Level Efficiency
Adventurer 5M Pro is a versatile tool that can be used for parent-child bonding activities, household repairs, and creative teaching. Its fully enclosed design allows you fast and easy use while enjoying the process.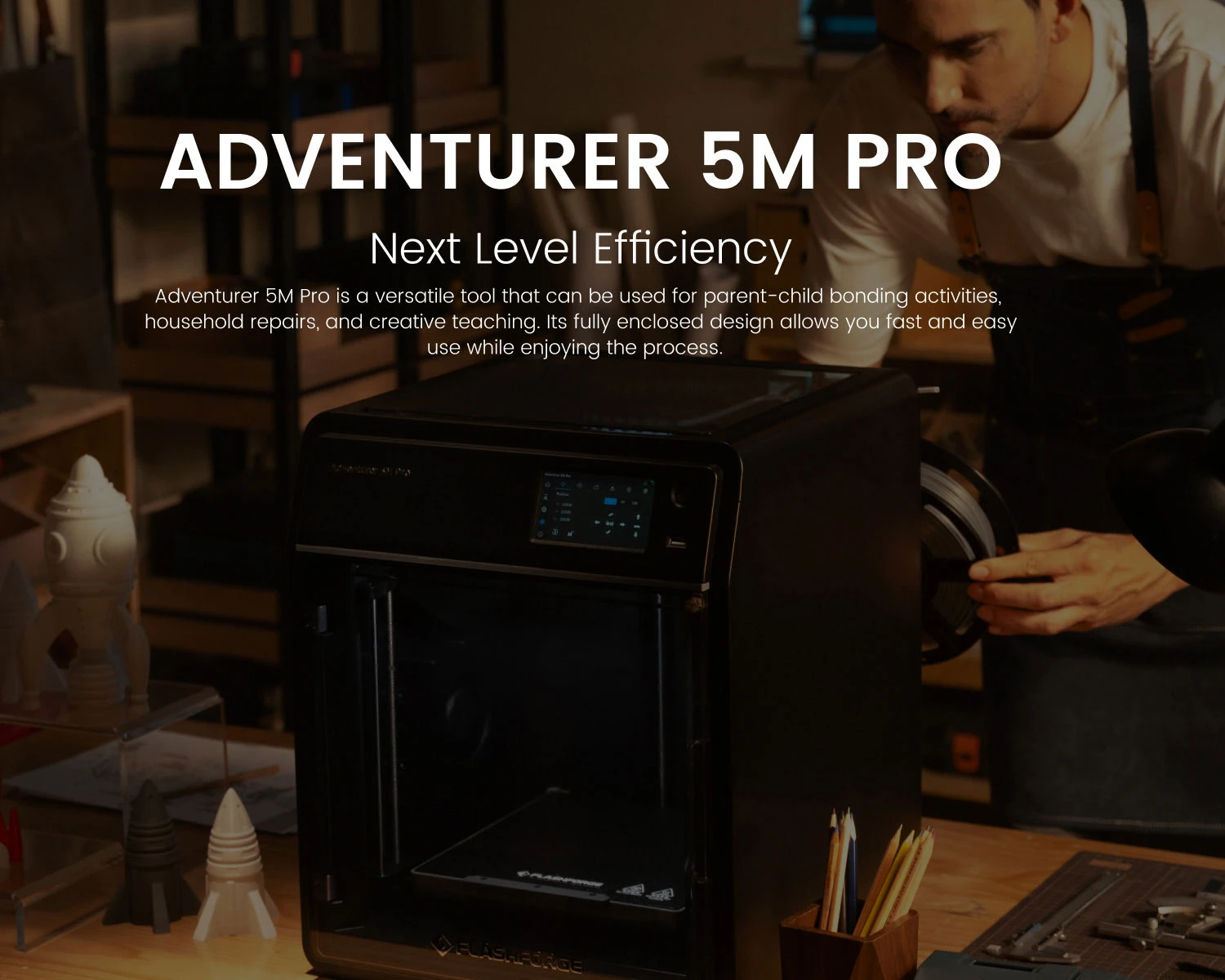 Set Up With 10 Mins
Effortless Printing: Auto Leveling and Quick Release Nozzle
Max Speed 600mm/s; Max Acceleration 20000mm/s2
Internal & External Circulation Dual Air Filtration


Set Up Within 10 Mins
Rookies and kids will find it effortless and fun to use. Unbox it, start with one click, and you're ready to print in 10 minutes.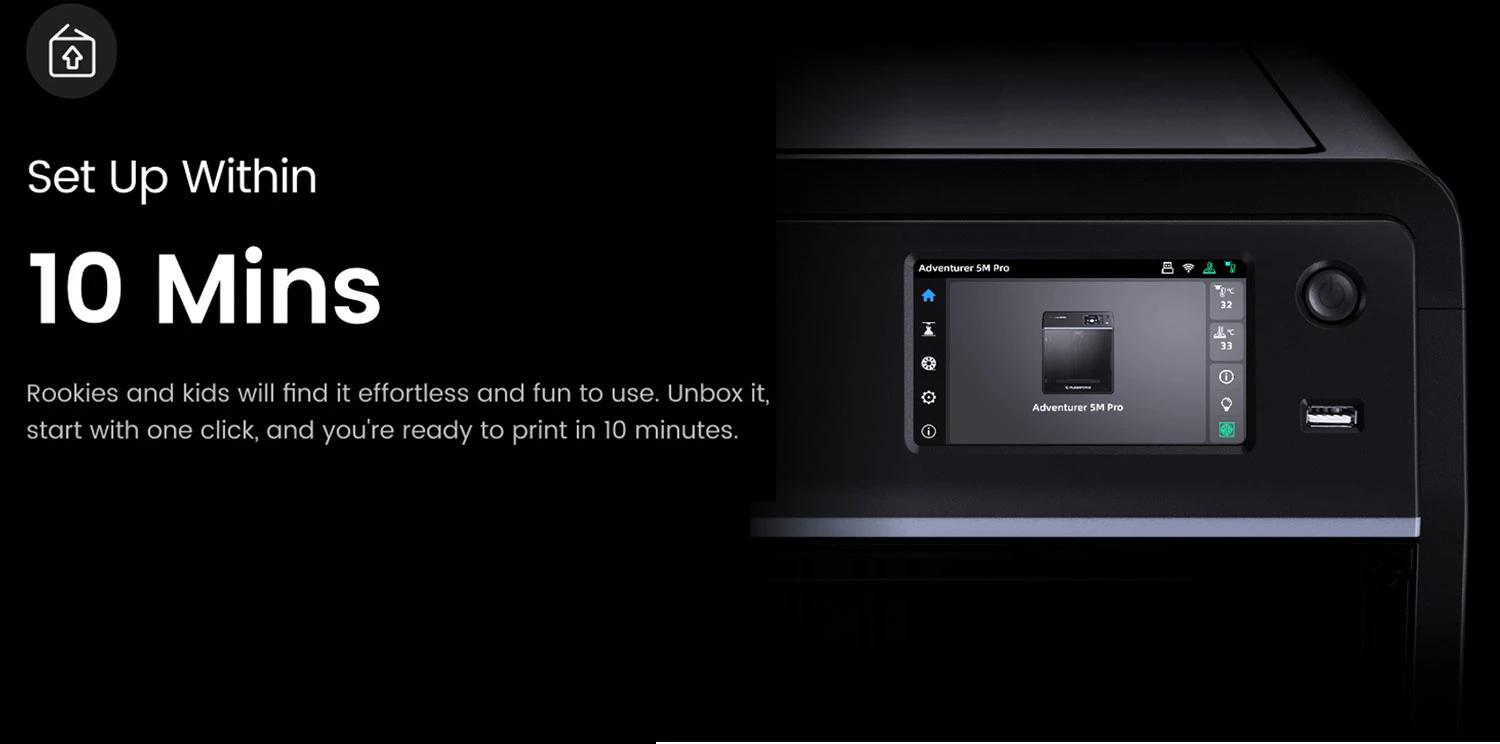 Full-Auto One-Click Leveling
Flashforge Adventurer 5M Pro features an advanced auto-leveling system that measures the nozzle height relative to the build plate, automatically compensating for any discrepancies without effort.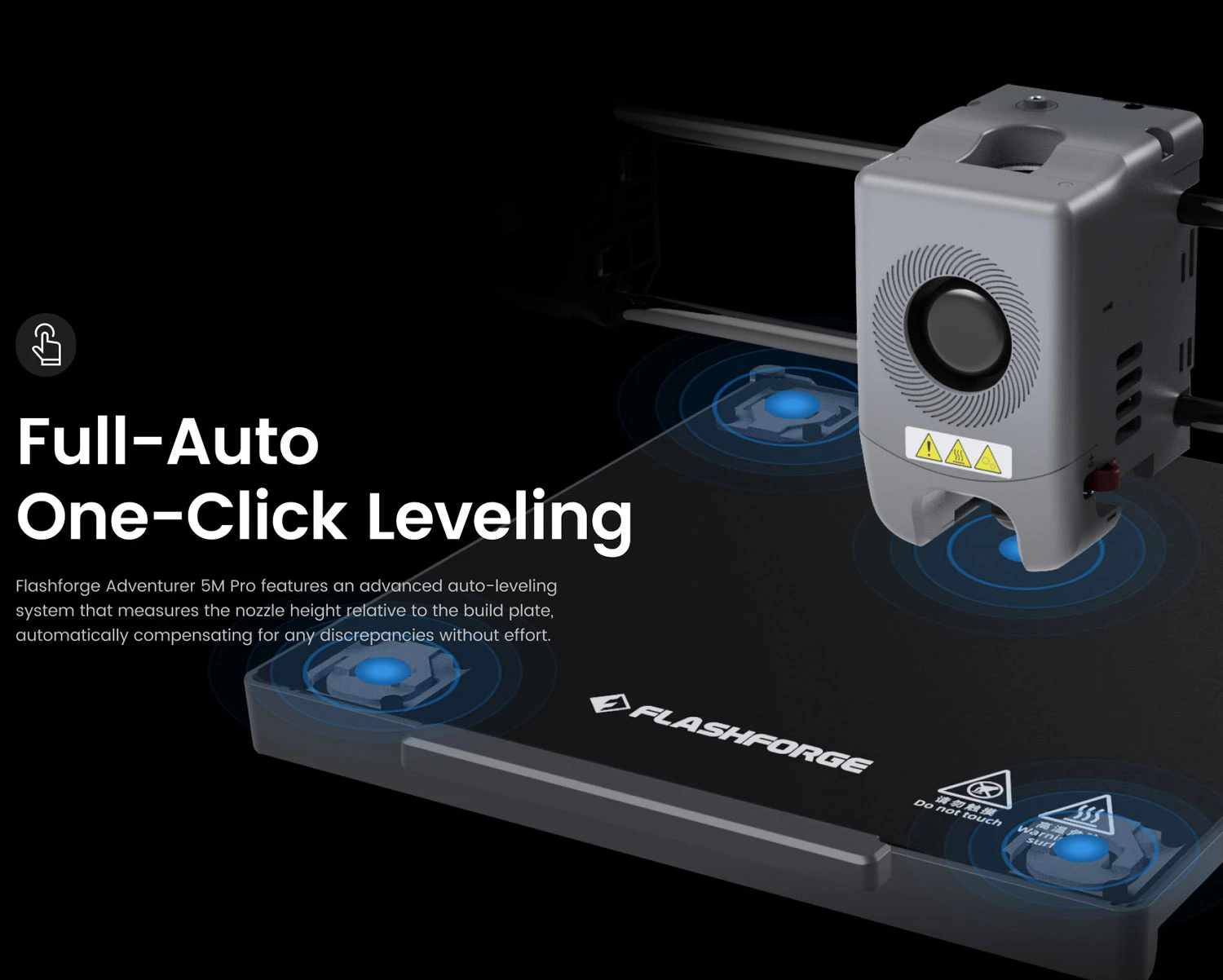 Effortless Printing
Flawless First Layer
Achieve a flawless first layer with precise auto bed leveling. No need for manual Z-axis adjustments. Print effortlessly from start to finish.
Quick-Release Nozzle
Switch printing modes with quick-release nozzles in multiple diameters (0.25/0.4/0.6/0.8) to inspire your originality.
PEI Build Plate
The magnetic build plate is removable, and it features a PEI coating that provides excellent adhesion and broad material compatibility.


Speed Master, Print At Your Will
Maximum Speed: 600mm/s
Maximum Acceleration: 20000mm/s2
Nozzle Flow: 32mm3/s
Up to 12 times faster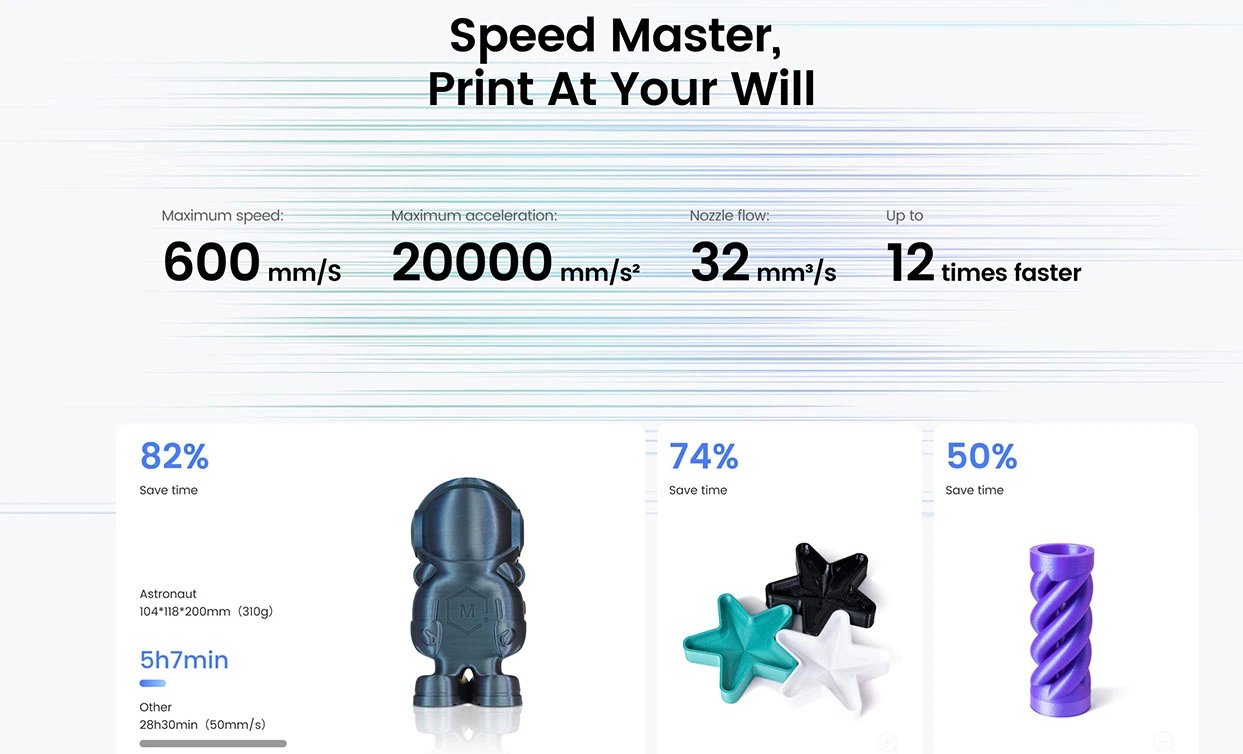 Quickly Switch 0.6/0.8mm Nozzles, Transform Into High-Efficiency Mode
With The 0.6mm Nozzle, Save Half The Time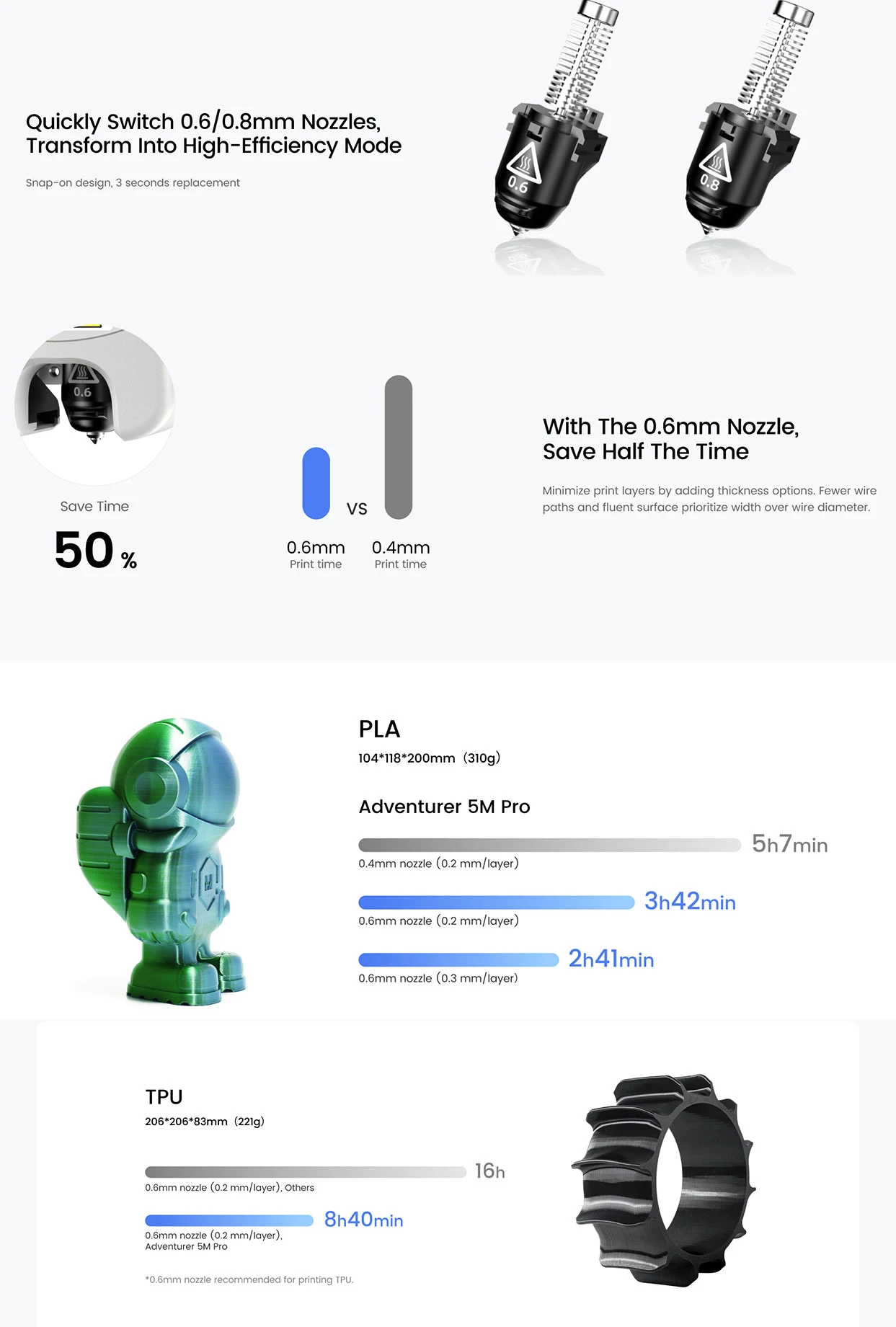 Rapid Yet Stable
Adventurer 5M Pro utilizes a brand-new, sturdy design and consistently reliable materials to ensure high-speed printing while giving you high-quality work.
Core XY structure, All-Metal Frame
The stable and smooth motion structure supports stable and low-noise printing in high-speed mode.
Direct Drive
Accurate filament extrusion pressure control
280° Nozzle, rapid Heating
360° surround heating, 50w heating power, 200° heating up in 35 seconds, 32mm³/s high-flow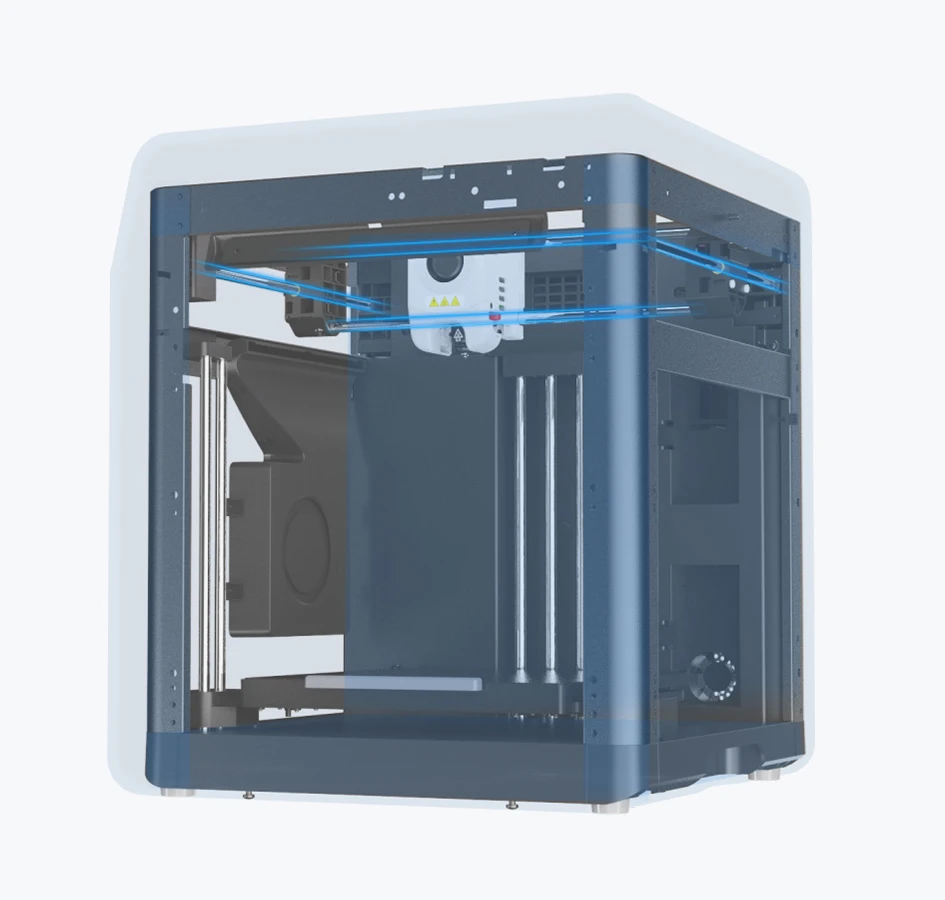 Achieve Smooth Printing
Vibration Compensation
Achieve a smooth surface on your models by eliminating ghosting in prints.
Effective Dual-channel Cooling
Cool your models rapidly with the turbo fan and dual air ducts.
Auxiliary Chamber Cooling
The 12W cooling fan provides powerful assistance in heat dissipation.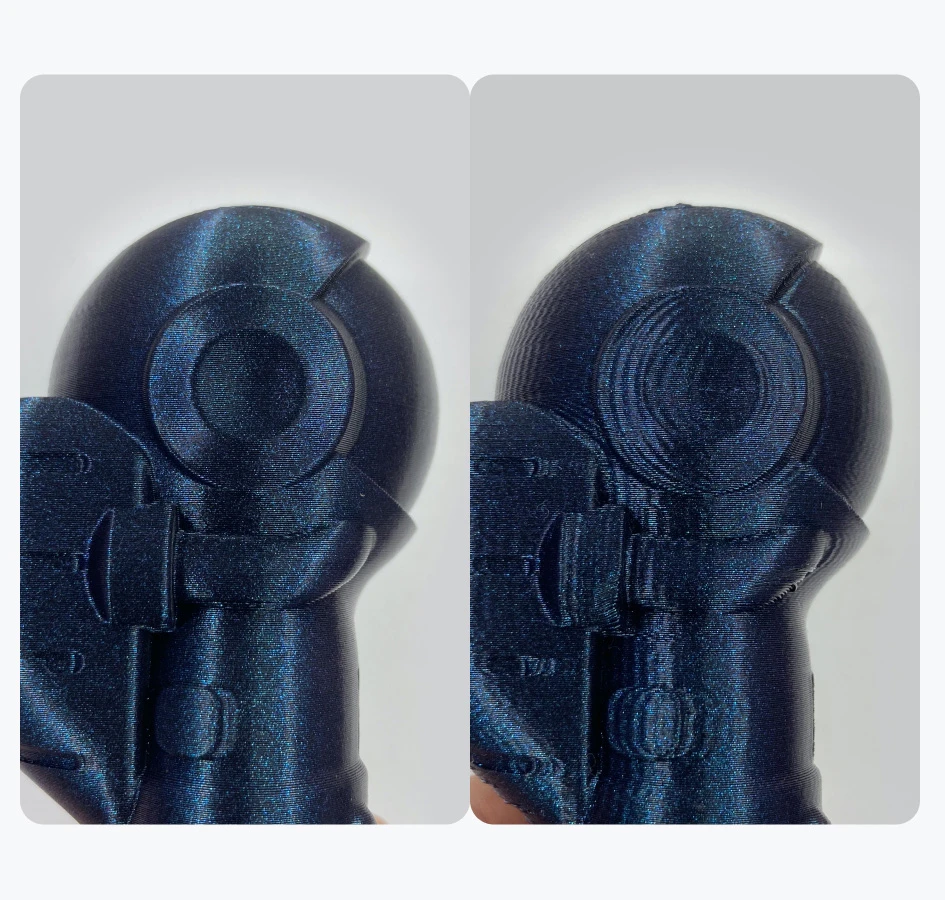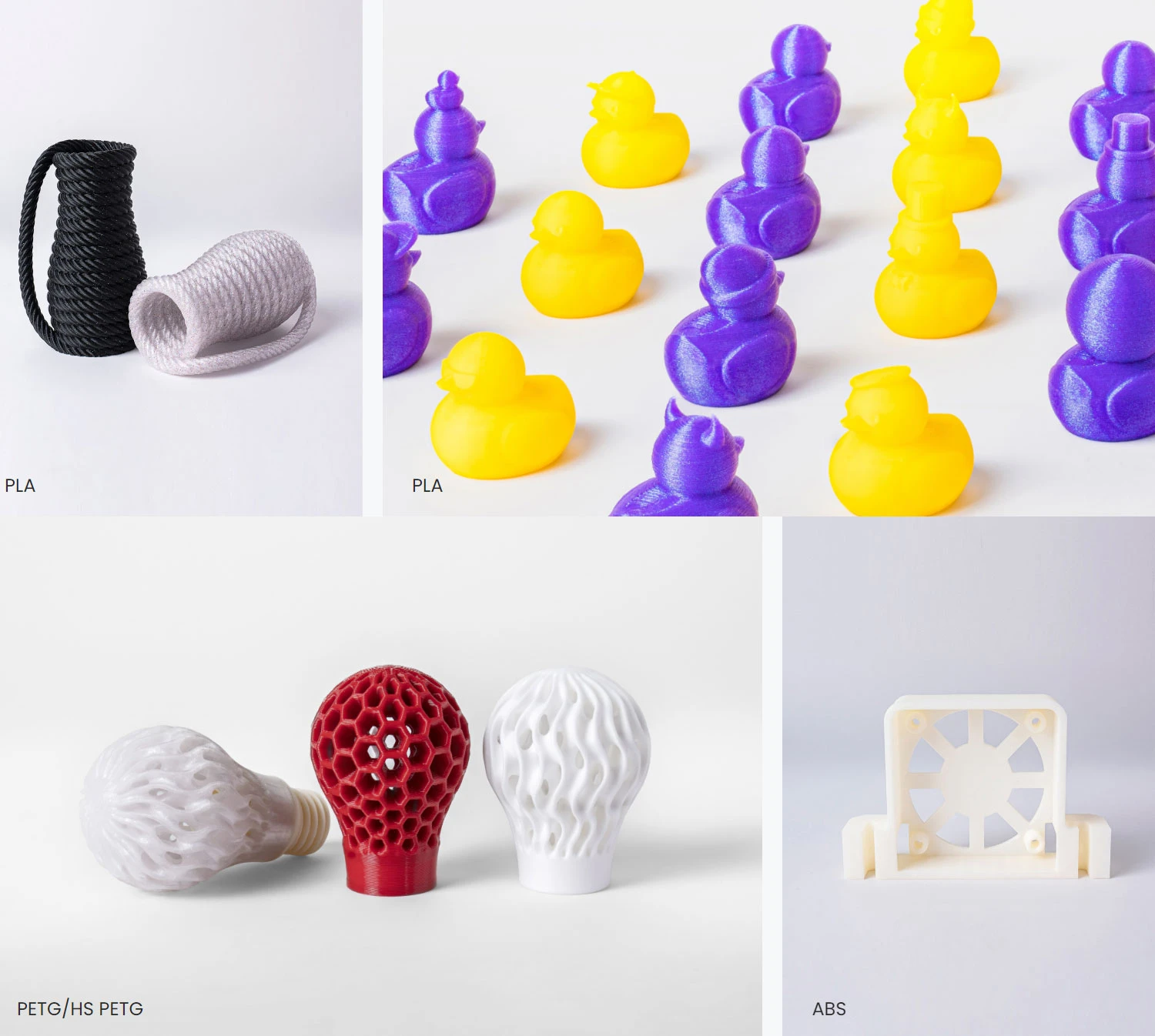 Multi-Material Application
Depending on the field, different materials are required for the application.
Adventurer 5m pro is compatible with a wide range of materials.
With a 0.6mm nozzle, short-distance extrusion can easily print flexible TPU-like materials. The 0.6/0.8mm nozzle is wear-resistant and suitable for printing PLA-CF/PETG-CF materials.
High-Speed Filament
Adventurer 5M Pro fully supports high-speed PLA/PETG. Designed for rapid melting and cooling, try them out and enjoy the fun of high-speed printing.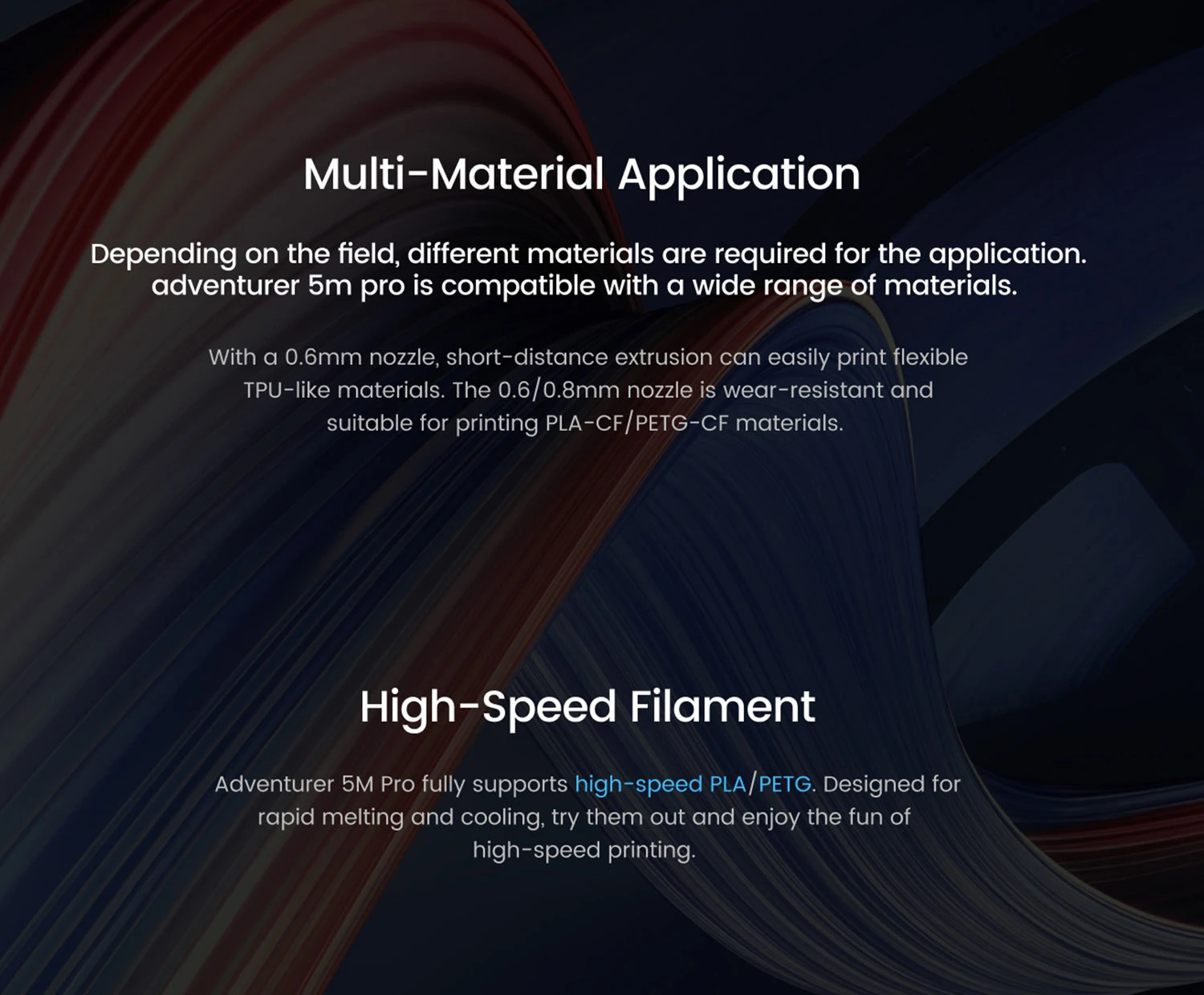 Safe Printing Guaranteed
Your health is our concern. Adventurer 5M Pro features a closed structure and dual filtration system to optimize air quality during printing. It includes a HEPA and activated carbon filter to block 99% of particulate matter and VOCs, making it safe for home or classroom use.
Inner Circulation Filtration
Improve the cavity air, making it suitable for ABS and other materials.
External circulation filtration
Air is drawn in from outside, filtered, and circulated out, suitable for materials like PLA and PETG.
HEPA + activated carbon double-layer filter
Blocks 99% of particulate matter and VOC, guarantee your health.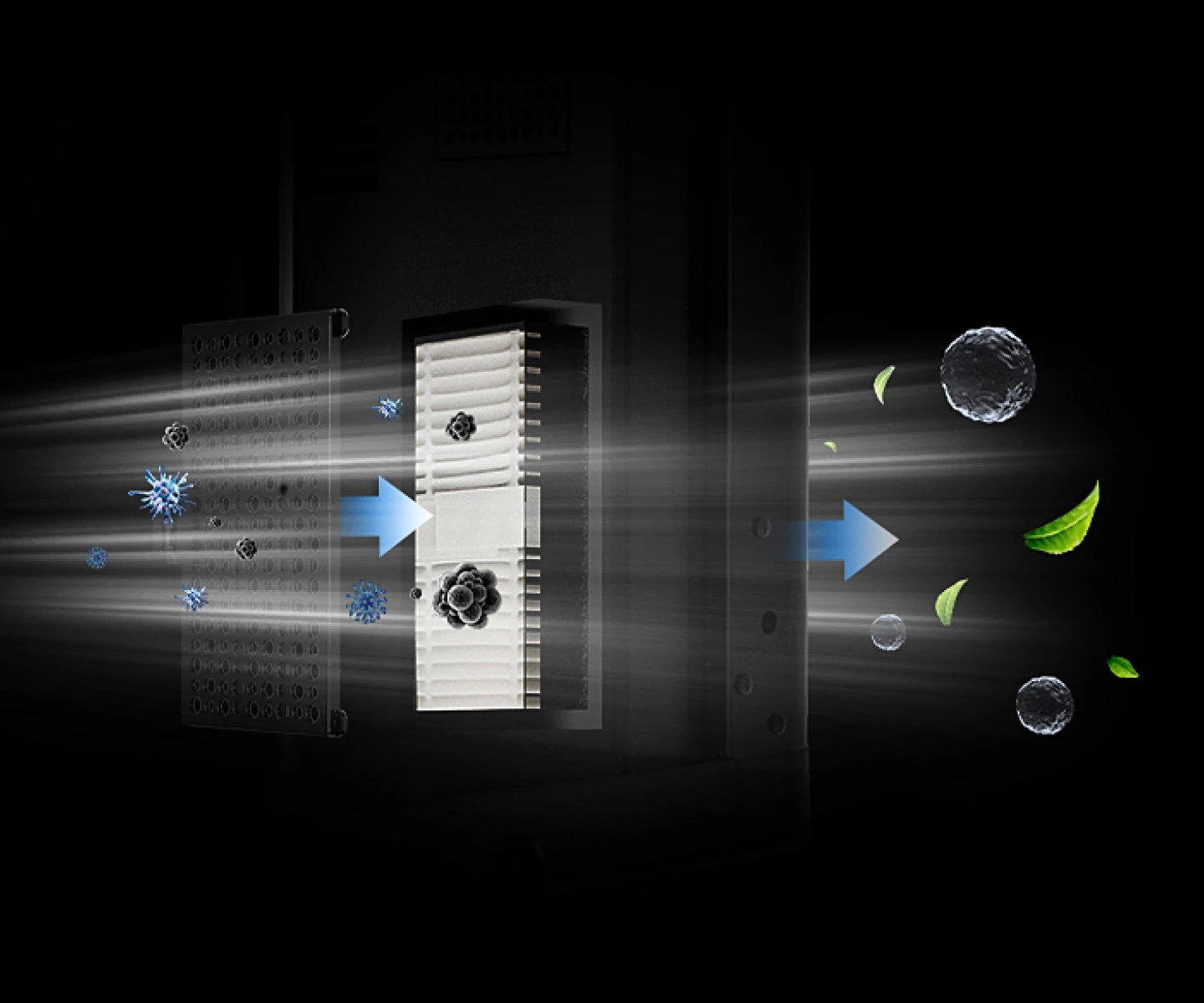 Enhanced Compatibility
You can easily use FlashPrint 5 for various printing modes and materials, streamlining the slicing process. You can print effortlessly monitor the print status and manage the printer online.
It also allows for Cloud control, monitoring your printing progress.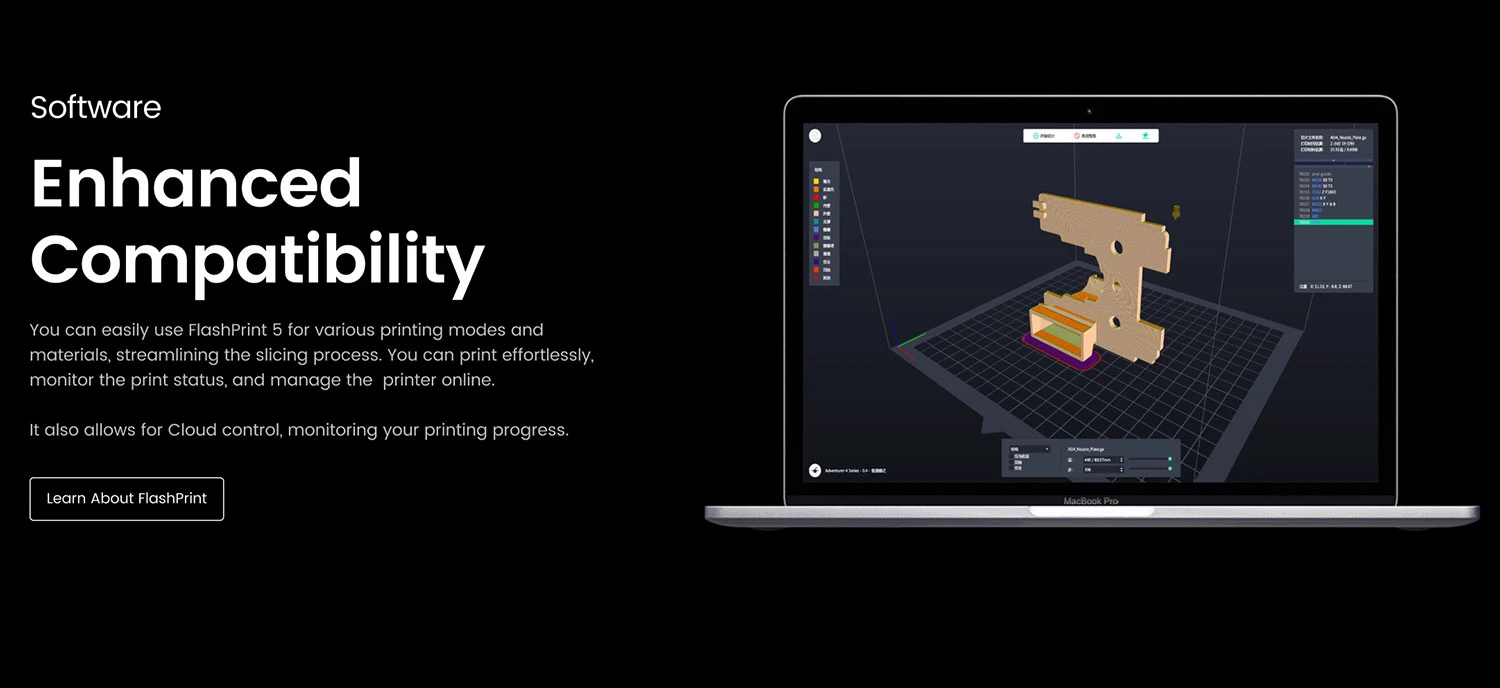 Versatility for Delightful Play
Silent Printing
Standard mode: 50dB; an additional low-speed silent mode to ensure uninterrupted focus during work or study.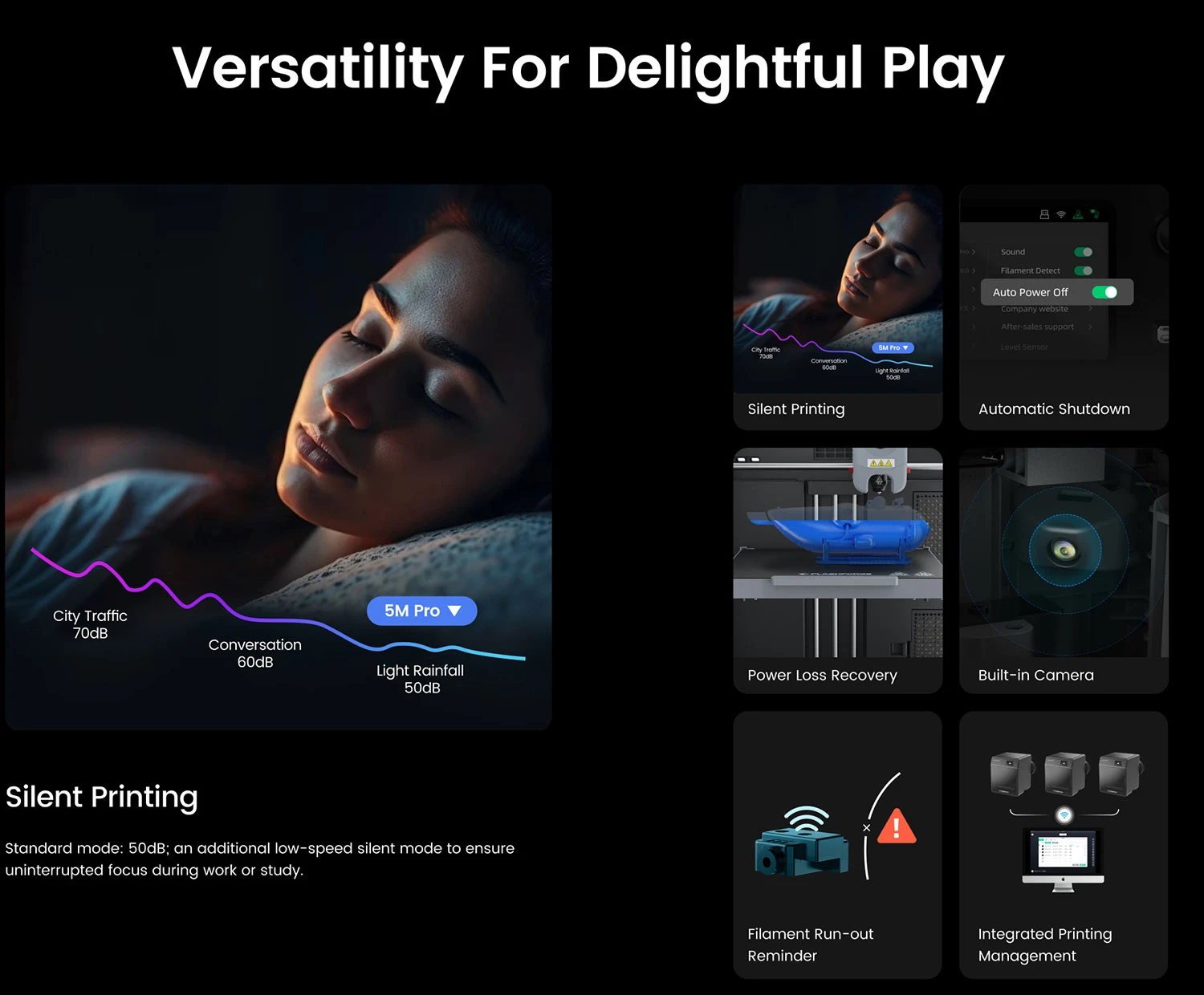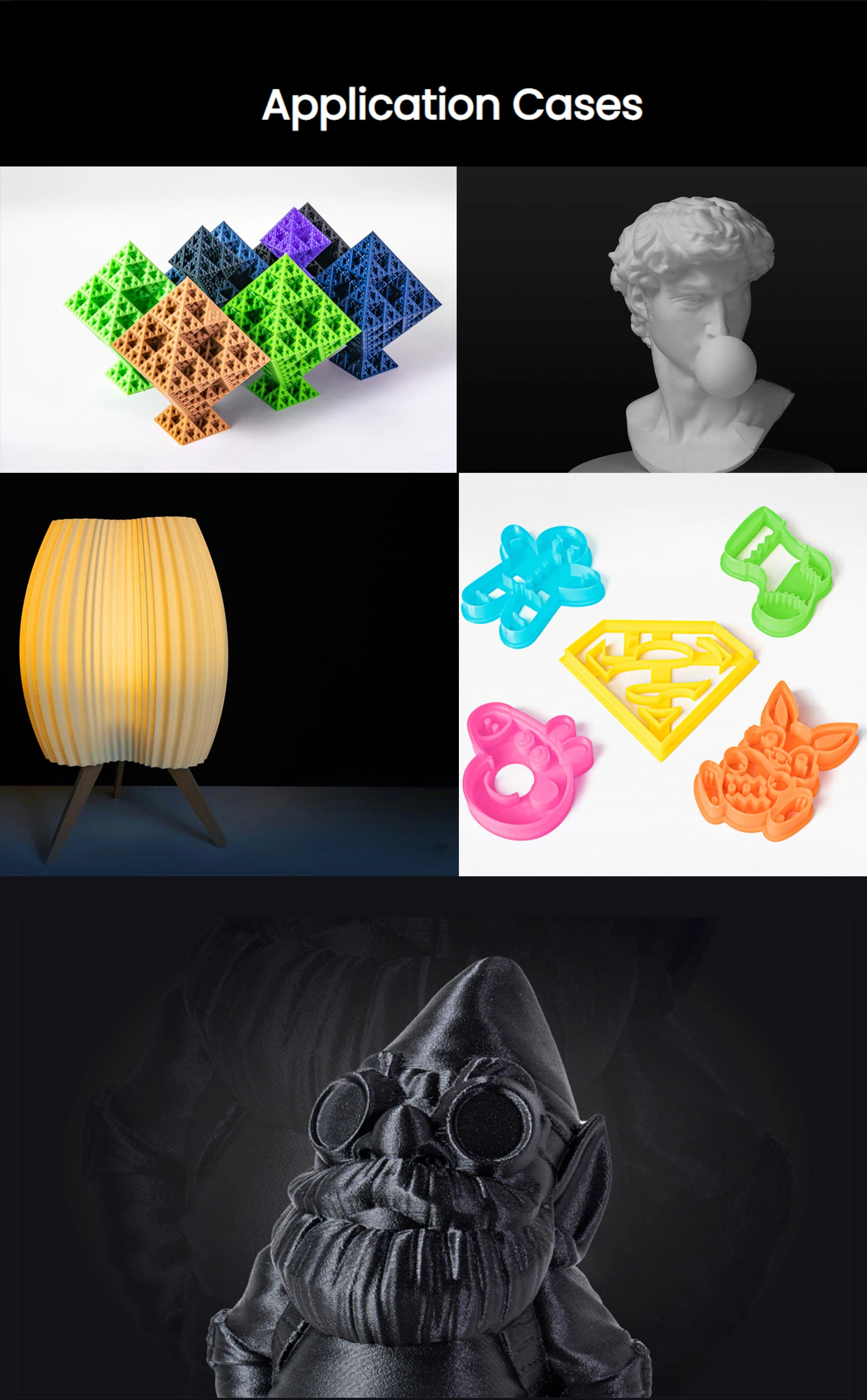 Specification
General
Brand: Flashforge
Type: 3D Printer
Model: Adventurer 5M Pro
Color: Black
Specification
Extruder quantity: 1
Printing precision: ±0.2 mm (Test of 100mm cube)
Position precision: X/Y axis: 0.0125 mm; Z axis: 0.0025 mm
Layer thickness: 0.1-0.4 mm
Build size: 220x220x220mm
Nozzle diameter: 0.4 mm (default); 0.6mm/0.8mm/0.25mm (optional)
Printing speed: Standard print speed: 300mm/s; Maximum extruder speed: 600mm/s
Highest extruder temperature: 280 Celsius
Filament type: PLA/PETG/TPU (0.4mm nozzle); PLA-CF/PETG-CF (0.6/0.8mm nozzle)
Power supply: Input: AC 100-240V, 50/60Hz, 350W
Slicing software: FlashPrint 5
Input/Output file type: Input: 3MF/ STL / OBJ/FPP/BMP/PNG/JPG/JPEG; Output: GX/G
Printing connection: USB Disk / WIFI / Ethernet
Certification: CE / FCC / RoHS / UKCA / PES / KC
Working temperature: 15-30 Celsius
Compatible operating system: Win XP/Vista/7/8/10, Mac OS, Linux
Compatible slicing software: Prusa Slicer/Cura /Orca Slicer
Heating bed setting support: 110
Close design: Yes
Auxiliary leveling: Full-auto one-click leveling (Platform pressure sensor)
Filament running out reminding: yes
Replaceable print bed: yes
Continue last printing when power off: yes
Automatic shutdown: yes
Intelligent door sensor: no
Touch LCD screen: 4.3-inch
Constant temperature and circumfluence system: no
Remote camera watching: yes
Time-lapse video: yes
Wireless WIFI: yes
Ethernet: yes
USB stick Interface: yes
Air filter net: Internal circulation + external circulation (HEPA 13 + activated carbon)
Magnetic Printing bed: yes, PEI Sheet
Glass printing bed: no
Cloud: yes
Noise: Low-noise mode: 50dB; Standard mode: 55dB
Weight & Size
Product Weight: 14.5kg
Package Weight: 18.3kg
Product Size(L x W x H): 380×400×453mm
Package Size(L x W x H): 460x480x530mm
Package Contents
1 x 3D Printer
1 x User Manual