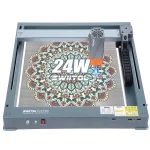 Swiitol E24 Pro 24W Integrated Structure Laser Engraver 36000mm/min High Speed 365x305mm Working Area Compressed Spot Coupling Technology Engraving Tank Chain Binding for Stable Work Support Offline Engraving Eyes Protection Suitable for Wood Metal Leather Black Acrylic
Features Swiitol E24 Pro 24W :
♦ Integrated Structure Laser Engraver: The overall frame of Swiitol E24 Pro is made of aluminum alloy and can be used out of the box without installation.
♦ Second-generation blue laser packaging process: Swiitol E24 Pro laser adopts the second-generation packaging process, which further compresses the laser spot and significantly improves cutting capabilities. It also improves the heat dissipation efficiency of high-power lasers and extends the service life of lasers;
♦ Upgraded compressed spot coupling technology: ultra-fine laser focus area reduced to 0.06×0.06mm, high-density laser can easily cut 17mm thick Basswood, 15mm thick black acrylic (multiple cuts); can directly engrave mirror stainless steel metal, ceramics, glass, engraving & cutting speed 40% higher than the ordinary model,
♦ More stable and high-speed structure: The bottom frame of Swiitol E24 Pro is formed in one piece, and the X-axis metal adopts a double-axis guide rail structure to work with small vibration, ensuring that the machine does not shake when running at a high speed of 36000mm/min;
♦ Tank chain binding: To make the machine more beautiful and the structure more stable, Swiitol E24 Pro adopts the tank chain wire binding scheme. The wire harness runs smoothly without entanglement and improves the wire life.
♦ Cross positioning: The laser is equipped with a red light cross positioning module as standard, which can position the engraving range faster and more accurately and determine the flatness of the material.
♦ New non-clogging laser: The new laser has a built-in tool-free focusing module and a built-in air assist system, without wire interference, simple and beautiful. There is also a patented double-layer wind collecting cover design, which can ensure long-term use without clogging or contaminating the lens, greatly extending the life of the laser.
♦ Brand new 32-bit motherboard: The most intelligent motherboard, with faster data reception and processing capabilities, optional accessories to enable autofocus and resume carving after power off. Sinking cutting and other functions.
♦ Mobile APP: The APP BURNLAB is now available in major Android application markets and iOS system (you can also scan the QR code of the manual to download). It is small and multi-functional, bringing a new control experience. Come and give it a try.
♦ New filter eye protection design: The panoramic filter protector protects your eyes very well, filtering 97% of ultraviolet light. You and the people around you do not need to wear goggles to watch laser engraving. Reduce your goggle expense and inconvenience of wearing goggles.
♦ Broad compatibility: The machine is compatible with various mature engraving software, such as LaserGRBL and LightBurn, and supports Win XP/Win 7/Win 8/XP/Win 10. It also supports MAC system (LightBurn) and engraving file formats. Support NC, BMP, JPG, PNG, DXF, etc.
♦ Safety protection: It is equipped with an emergency stop button. If an unexpected situation occurs, the machine can be stopped at any time. It is also equipped with a reset switch and a limit switch to make engraving safer.
♦ Rich accessories: According to different needs, honeycomb panels, air assists, rollers, claw plates, conveyor belts, air purifiers and other accessories can be purchased (need to be purchased separately)
Specification:
Model: E24 PRO
Engraving ruler: 365x305mm
Machine Electric power: 130W
Laser Electric power: 90W
Laser output optical power: 24W
Laser wave: 455 ±5 nm
Engraving accuracy: 0.02mm
Net weight of equipment: 8.5kg
Max Engraving Speed: 36000mm/min
Data transmission type: USB connection
Focusing type: fixed focus laser, no focusing
Spot size: 0.06×0.06mm
Operating software: LaserGRBL, LightBurn for with Win XP/Win 7/Win 8/XP/Win 10 system
APP: BURNLAB compatible with iOS and Android
Carving materials: Basswood, pine, paulownia, plywood, yellow peach, mahogany, density board, kraft paper, non-transparent acrylic board, resin, rock board, ceramics, leaves, bamboo, cardboard, plastic, leather, PCB version, alumina, non-reflective Electroplated and painted metal, 304 mirror stainless steel, glass, ceramics, cotton cloth, slate;
Cutting materials: Kraft paper, hardwood, Paulownia, basswood, pine, softwood, bamboo chips less than 3MM, low-density foam board, non-transparent acrylic board, ABS, PP and other boards less than 3MM thick, cardboard, non-woven fabrics, wooden boards, acrylic, some thin plastic board, sponge;
Supported file formats: NC, BMP, JPG, PNG, DXF
Power supply: 100-240V AC, 50/60HZ Output: 12V 5A
Packing List:
1 × Complete Machine Frame
1 × Laser Module
1 × Tank Chain
1 × Mounting Screw
1 × Tool Kit
1 × Fixed Focus Film
1 × Desiccant
1 × Dust-Free Cloth
1 × Power Adapter
1 × Instruction Manual
1 × Data Cable
1 × Protective Glasses
1 × U Disk
1 × Safety Lock Key
Precautions:
●When operating the laser engraving machine, please install the laser protective cover; if it is not installed properly, you need to wear goggles.
●Do not touch the laser with your hands, otherwise your hands may be burned.
●Please avoid strong impact on the machine.
●Children under 14 years old are prohibited from using this product. Children over 14 years old require adult supervision.
●The laser cannot be applied directly to any specular reflective object, which may cause injury to the operator or burn the laser.
●This product does not come with an air pump as standard. It is not recommended to turn on the air pump when carving wood materials, as it will cause unclear outlines of the pattern.
●This product cannot cut transparent acrylic. When engraving transparent acrylic or other transparent materials, you need to completely cover the surface with paint to ensure that ultraviolet light cannot penetrate the transparent material.