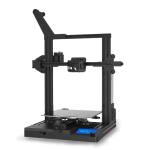 SUNLU T3 Mini FDM 3D Printer, Fast Printing Speed Up To 250mm/s, 32bit Mainboard, Equipped With Intelligent Clog Detection Module
SUNLU T3
3D PRINTER INSTALLATION
Self-developed Clog Detection
Pauses printing and returns to standby when a clogged nozzle is detected. After unclogging the nozzle, continue the printing process to complete the model printing. Avoid failures caused by nozzle clogged.
Full Silent Printing Noise Lower than 45db
Equipped with 32-bit high performance silent motherboard + xyze-axis silent driver, printing noise as low as 45 decibels.
Auto-Leveling 16 Detection Points
Accurate software + hardware compensation. Quick leveling, one key in place, saving debugging time before printing.
Resume Printing After Power Failure or Filament Outage
Built-in-power failure detection module and memory module, real-time tracking of printing process. In the event of unexpected situations such as sudden power failure or material outage, record the printing status of model in time and continue the printing process.
Metal Double Gear Extruder
Output filament more stable, powerful filament transfer for fast printing
X-Axis, Y-Axis Belt Adjuster
Adjust the tension of the belt, avoid the noise caused by the loose belt of the printer after long use. Keep the printing accuracy of the the printer in the factory state.
Magnetic Build Plate
The magnetic platform with excellent thermal make it conductivity up faster. Quick heating into the printing process. Material adhesion is multiplied to avoid non-sticking the baseplate. The model is easy to stick and easy to take without deformation
Easy To Assemble, Easy to Use
The new machine can be assembled in 3 simple steps. Easy to carry, easy to carry and go.
Small Body Big Power
Full body metal frame with stable square base more accurate and stable . 220*220*250mm print size.
| | | | |
| --- | --- | --- | --- |
| | Terminator3 | S8 Pro | S9+ |
| Build volume | 220×220×250(mm) | 310×310×400(mm) | 310×310×400(mm) |
| Printing speed | 20-250mm/s | 20-100mm/s | 20-250mm/s |
| Printing accuracy | ± 0.1 mm | ± 0.1 mm | ± 0.1 mm |
| Suggest Material | 1.75mm PLA Meta, PLA & PLA+,carbon fiber,ABS(low temp)PETG, HIPS, WOOD,PCL,TPU | 1.75mm PLA,PLA+,carbon fiberABS(low temp), PETG, HIPSWOOD,PCL,TPU | 1.75mm PLA,PLA+,carbon fiberABS(low temp), PETG, HIPSWOOD,PCL,TPU |
| Operating noise | ≤ 45 dB | ≤ 58 dB | ≤ 58 dB |
| Nozzle temperature | ≤ 500 °F / 260 °C | ≤ 500 °F / 260 °C | ≤ 500 °F / 260 °C |
| Heated bed temperature | ≤ 212 °F / 100 °C | ≤ 212 °F / 100 °C | ≤ 212 °F / 100 °C |
| Machine Dimension | 440×400×470(mm) | 600×490×640(mm) | 600×490×640(mm) |
| Machine Weight | 7.25KGs | 10.8KGs | 11.56KGs |
FDM 3D Printer: SUNLU Terminator3
Net Weight: ≤8.8kg
CE FCC ROHS
Certification: Yes
Printing Size: 220*220*250mm
Printer Size: 420*450*470mm
Connecting: TF card, PC (USB)Printing
Speed: 40-250mm/s
Print temperature: 0-260℃
Hot Bed Heating Temperature: 0-100℃
Power Specifications: 115V/230V AC,50/60HZ
Nozzle Specifications: One nozzle, 0.4mm (compatible: 0.4mm-0.8mm)

①【32 bit Motherboard】→ SUNLU T3 has a built-in 32-bit motherboard, which can improve DIY, higher printing accuracy, and improved printing effect.
②【Clog Detetcion】→Equipped with Intelligent clog detection module, SUNLU T3 will return to the origin and then be on standby when clogging occurs. After clogging is processed, it can resume printing.
③【250MM/S Printing Speed】→SUNLU T3 supports up to 250mm/s printing speed, which is 5 times faster than ordinary printers.
④【Silent Motherboard】→ SUNLU's upgraded printer comes with a new silent motherboard and a stable high-performance drive motor, it can effectively reduce noise, no excessive noise during printing.
⑤【Quick Installation】→ T3 is a pre-assembled printer, just fix the gantry and start printing. Disassembly is also simple, it's convenient for users to upgrade and build their own printers(open source).
⑥【Resume Printing】→ High-end detection module, real-time detection and identification of filament loading state, instantaneous response to suspend printing within 1 second after filament run-out.
⑦【High Compatibility】→ SUNLU's new version printer T3 is compatible with many kinds of FDM printing filaments in the market, including PETG, ABS, TPU, Wood Fiber, Carbon Fiber, PLA filament, etc.