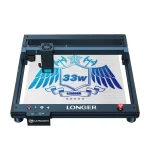 Longer Laser B1 30W Laser Engraver Graveur Laser Longer3D B1 30W. 450 * 440 mm dimension de travail diode de 33W
33W Ultra-high Power output & finer and longer focal length(50mm), increase the cutting capability 20%+ comparing to other same power lasers
17.72×17.32 inches/450x440mm working area, which meets the demands of most scenarios, especially ideal for A3 panels
With a new 32-bit motherboard, which allows engraving speed up to 30,000mm/min, four times faster than ordinary laser engravers
With an aluminum frame and improved mechanical designs, which is very stable even under high-speed working mode
Equipped with Air-Assist & 8 Major Safety Protections, safer to use
Orders will be shipped on May 15th and the expected arrival date:May 20th – May 30th
PS: Non-US and non-EU regions may incur additional customs duties when shipping, such as the UK and Switzerland
33W Ultra-high Power Laser
With the most advanced six-core laser technology, Laser B1 has a strong 33-36W optical output power, one of the most strongest available diode-laser today and thus a much stronger cutting ability. Laser B1 can cut through 20mm paulownia wood, 10mm black acrylic, and even 0.1mm stainless steel in one-pass, 25mm basswood and 50mm black acrylic in multi-passes..
Bigger Working Frame
17.72×17.32 inches/450x440mm working area, Laser B1 provides a 23.75% increase in working size comparing to others, which meets the demands of most scenarios, especially ideal for A3 panels.
30,000mm/min High Speed
Laser B1 is equipped with a new 32-bit motherboard, which allows engraving speed up to 30,000mm/min, four times faster than ordinary laser engraving machines. In addition, TMC2209 silent drivers is used to effectively reduce the noise of operation, providing a faster and more enjoyable experience.
Smart Air-Assist System
Air-assist pump can be automatically turned on/off. This is controlled directly by the program, based on the parameters set in Lightburn, which greatly enhances cutting ability and also significantly improves cutting precision and quality.
Multi-Color Engraving
The high-energy laser beam instantly oxidizes the metal surface, bringing 300+ rich colors to fulfill your colorful creative needs.
8 Major Safety Protections
8 safety protection features are installed, i.e. Move/ Flame/Offline/Motionless/Security Lock/Eye Protection/Emergency Stop Button/Zero Reset. Laser automatically shuts down when falling, flame, data disconnection and laser head freezing over 15 seconds are detected. In addition, laser head is automatically reset to zero to avoid burnout when fire. And the panoramic filter glass can effectively filter 99.8% of the laser, safer to use.
Engraving up to 1000+ Materials
With 33W laser power and its strong cutting and engraving capacities, Laser B1 can cut or engrave up to 1000+ materials, such as wood, stainless steel, leather, silver, acrylic, cloth and more.
Sturdy Metal Frame
Laser B1 is made with an aluminum frame with improved mechanical designs and is very stable even under high-speed working mode. This helps to make better engraving and cutting arts.
Focus Positioning Bar
The laser module integrates a pull-down focus bar, which is easy to use, just pull down the focus bar, and move the bar towards the surface of the working panel.
XY-axis Limit Switches
Added X-axis and Y-axis limit switches can accurately locate the position of the laser module. At the same time, if the laser module moves in the negative direction of the X-axis or Y-axis, Laser B1 will trigger an alarm and stop the movement.
Laser Lens Protection
Laser module is equipped with a replaceable protective lens, which effectively prevents the smoke from polluting the laser lens, and greatly improve the service life of laser module.
Multiple Data Transfer Options
Data can be transferred via different methods of Wi-Fi, USB cable, APP and TF cards , which supports offline operations. You can use anywhere, without the limits of physical connection to a computer.
Great Software Support
Laser B1 is compatible with various mature carving software, such as LaserGRBL and LightBurn. It supports Windows 7+, macOS, Linux; engraving file formats Support JPG, PNG, BMP, G- code, GIF, SVG, NC, GC, etc.