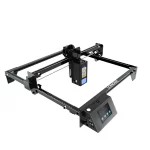 RAY5 20W Laser Engraver Graveur laser LONGER. Puissance diode 20W, surface de travail 400x400mm
20W powerful cutting, cuts 0.59″/15mm pine wood and 0.31″/8mm acrylic in one pass, even 0.002″/0.05mm stainless steel
0.08*0.1mm² high accuracy DIY laser engraving & cutting
Multi-color engraving on metal surface, breathe more life into your creations
XY-axis limit switch & 5 safety protections, safer to use
3.5" built-in touch screen to offline work, and support WiFi, APP, USB cable, and TF cards data transmission
equipped with laser protection lens, dust-proof hood, and air assist interface (air pump not included)
Shipping in 1-2 business days from US/CN warehouses
PS: UK and Switzerland orders will incur additional tax upon delivery
Get a free air pump during the global launch
20W Powerful Cutting
Ray5 20W has a 20W powerful laser module, which comes with the most advanced laser enhancement technology and enhance the cutting capacity of this machine. It can cut 0.59″/15mm pine wood and 0.31″/8mm acrylic in one pass, even cutting 0.002″/0.05mm stainless steel.
0.08*0.1mm² High Accuracy Laser Spot
With the latest compressed laser technology, the laser spot is as tiny as 0.08*0.1mm², thus engraving thinner lines, clearer texture, more delicate and beautiful artworks. And air-assisted interface is reserved, which can be easily matched with various air pumps, more clean surfaces.
More Efficiently
Ray5 20W is euipped with a 20W powerful laser output power and 120W electric power, deeper cutting at one time, smoother engraving with high power at high speed, and wider cutting and engraving materials, saving time. Suitable for professional office, workshops or factories.
Multi-Color Engraving
The 20W high-energy laser beam instantly oxidizes the metal surface, bringing rich colors to fulfill your colorful creative needs.
XY-axis Limit Switch
Added X-axis and Y-axis direction limit switches, which can accurately locate the position of the laser module. At the same time, if the laser module moves in the negative direction of the X-axis or Y-axis, Ray5 20W will trigger an alarm and restrict the movement.
5 Safety Protections
Laser emergency stop will be triggered when tilted, flame, data connection interruption and laser head freezing over 15 seconds are detected. In addition, the panoramic filter glassv can effectively filter the laser and protect the eyes, safer to use.
New Laser Lens Protection
The 20W laser module is euipped with a replaceable protective lens and dust-proof hood to effectively prevent smoke from polluting the laser lens, and greatly improve the service life of the laser module.
Multiple Transfer Ways
Data can be transferred via different methods of Wi-Fi, USB cable, APP and TF cards , which supports offline operations. You can use Ray5 anywhere, without the limits of physical connection to a computer.
Multiple Machines Control
One computer can control multiple Ray5 laser engravers work parallelly, Whether it is Ray5 5W, Ray5 10W or Ray5 20W, and improve the production efficiency.
Wide Compatibility
Ray5 20W is compatible with various mature carving software, such as LaserGRBL, LightBurn, supports Windows 7+, macOS, Linux; carving file formats Support JPG, PNG, BMP, G- code, GIF, SVG, NC, GC, etc.
3.5″ Touch Screen
3.5-inch smart built-in color screen, it does not need to connect the laser engraving equipment to the computer, supports offline operations.
Adjust Focus Easily
The focus plate is easy to focuse. And there is a 1mm pitch scale on the laser module, which can precisely adjust the focal length according to the thickness of the material for engraving and cutting.
32-Bit Chipset
Ray5 20W is built with an ESP32 chipset, which is running at 240MHz. Faster and more powerful than comparably equipped machines with 8-bit chipset.
Product SpecificationsPacking DetailsDownload
Model Number
Ray5 20W
Ray5 10W
Ray5 5W
Laser Technology
Dioser Technology
Dioser Technology
Dioser Technology
Working Area
375×375 mm (14.76×14.76 inch)
400x400mm (15.75×15.75inch)
400x400mm (15.75×15.75inch)
Laser Wavelength
450 – 460 nm
450nm
450nm
Focal Length
Fixed Focus-40mm
Fixed Focus-50mm
Fixed Focus-30mm
Laser Spot Size
0.08×0.10mm
0.06×0.06mm
0.08×0.08mm
Optical Output Power
18 – 21 W
10W
5W
Power Max Consumption
120W
60W
40W
Engraver Output
DC24V5A
DC12V5A
DC12V5A
Engraver Lnput
AC110-240V
AC110-240V
AC110-240V
Z Axis-Height Range
Up to 47mm
Up to 47mm
Up to 47mm
Fastest Working Speed
Speed 10000mm/min
Speed 10000mm/min
Speed 10000mm/min
Software
LaserGRBL&LightBum
LaserGRBL&LightBum
LaserGRBL&LightBum
Input Image Format
JPG, PNG, BMP, GIF, SVG, AI, etc.
JPG, PNG, BMP, GIF, SVG, AI, etc.
JPG, PNG, BMP, GIF, SVG, AI, etc.
Connection type
USB/TF Card/Wifi
USB/TF Card/Wifi
USB/TF Card/Wifi
limit switches
Yes
Optional
Optional
Air assist interface
Yes
Optional
Optional
Laser Engraver Size
610 x 67 x 200 mm
(24.02 x 26.38 x 7.87 inch)
586 x 583 x 176.5mm
(23.07×22.95×6.95inch)
586 x 583 x 176.5mm
(23.07×22.95×6.95inch)
Packaging Size
621 x 347 x 127mm
(24.45 x 13.66 x 5 inch)
621×299 x 127mm
(24.45 x11.77 x 5 inch)
621 x 299 x 127mm
(24.45 x 11.77 x 5 inch)